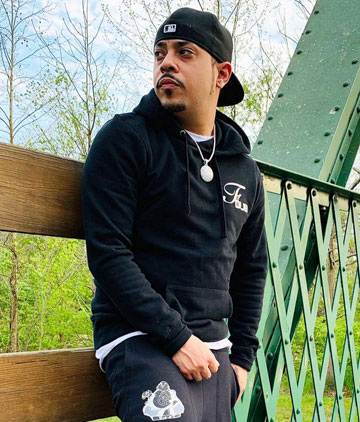 C.E.O and co-founder of Golden Goonz Entertainment, Hector Feliz, (aka F-DUB) hardcore MC, is a down to earth & humble person, fun, cool, smart, thoughtful, considerate, focused, and might be the 3rd most interesting man in the world.
F-DUB was born in the United States in 1983. He lived with his loving mother, stepdad, and younger sister. Growing up in Brooklyn, he aspired to become a lawyer, while enjoying basketball and riding bikes with his close friends. Hanging out with the older crowd, F-DUB always had people looking up to him. Maturing quickly, F-DUB became a leader in his neighborhood. As he got older, F-DUB went thru a lot of pain by losing his grandmother, who he was extremely close to, and by not having his biological father around to bring him up. He was always in and out of school, so he had to attain his smarts on the streets in Marlboro projects. As an adolescent, F-DUB was bitten by the music bug, when his mother played oldies in their home, like Michael Jackson, Donna Summer, Tina Turner and his personal favorite Diana Ross.
In 1998 F-DUB went by the name of Frank White while making music with his long-time friends Soze, NOM, AZ Blaze and others. Making music for fun showed him that he can make something out of it, and he did, putting together his 1st mixtape (Up & Personal). At the time, F-DUB was in love with his long time girlfriend of 7 years who made him back off music for a while. In 2006, his relationship fell apart and he jumped back in the studio with Soze and Nom getting beats from both of them to record his debut album in Gravesend with producer & engineer Luminairy. Completing his first album "Im Back At It," generated buzz and respect on the streets. Thanks to a suggestion by NOM, half of (Buc-cel), Hector changed his performer name from "Frank White" to "F-DUB" which means "FRANK IS DESTROYING YOU BASTARDS". The Album touched many people with hits like "Son of Sam", "Oh Yea", "My Life", and "Don't Come My Way". F-DUB's name was cemented as a true hard-core street poet and his career was off to an excellent start.
In 2010, F-DUB was looking for a new sound as a landscape for his latest ideas. One evening, he went to a show in Brooklyn starring Zeps, where he met Count Bluntas, a producer from Brooklyn, who gave him a beat CD. F-DUB was enamored with the final instrumental which turned out to be the song "Move" from his second album "Franky The Fist." F-DUB career catapulted once he and Count Bluntas became a team. Most of the production on the "Franky The Fist" album was done by Count Bluntas which created a bigger buzz for F-DUB with hits like "Came a Long Way", "Get Buck", and "I Don't Care." This propelled him into making big moves like going on tour to the Philippines with his long-time friends, Mike Swift (Filipino rapper), & J-HON (Turkish rapper).
In 2012, F-DUB officially joined forces with Count Bluntas (President) and they co-founded Golden Goonz Entertainment, an independent music company based in Sheepshead Bay, Brooklyn. The next two projects "Franky The Fist" and "The Lovey Dubby Show" became instant classics and made them become even bigger than before. Respect was earned from the local music community with Count's extra crisp studio sound, professional recordings, and relentless work ethic. Subsequently, they added uniquely talented artists to the Golden Goonz roster including Bianco, Dama Nilz, Frankie Fingaz, Kool Da Great, MavriC, M-Geez, Moey Toons, and "The SPIX" (Eturnal, and Zeps).
In February 2014, F-DUB's enhanced writing and MC abilities were on display with the release of "Golden Brothers" co-starring Count Bluntas. F-DUB blessed eleven buttery tracks with smooth flows and sick rhythm. Two video releases "Cloud 9" & "Cant F*** with GnG" are scheduled for release in May and June, respectively.
F-DUB is hard at work on "I'm Back At It Part II," already releasing two singles with videos, "Golden Goon Boyz" featuring M-Geez, Xienhow, and Mike Swift; and "Motivator, " both videos directed by Xienhow for Teamdoneson.
F-DUB has been fortunate to work with phenomenal musicians across the country and the world such as: Fahim, Ken Boogaloo, Yesh the fool, Subliminal, Mike Swift, Jae Duece, Little Jase, XienHow, Enzyme Dynomite, Dama Nilz, M-Geez, Soze, Nom, Loonie, Negatibo, J-HON, Sly Kane, Sunny Blaze, Mista Blaze, BARZ, Plexxx, E-Turnal, Alex Crisano, Dj Spinz, Alas ng Bliss, Teamdoneson, Zeps, Third World Council, Money Gang, Point Dot Period, Darya, AZ Blaze, Killa Stromz, Target, Vince Prince, Budg Hitt, and many more.
On his way to the top, F-DUB never stops working to make Golden Goonz Entertainment stand out from the norm in the music community by providing listeners with high quality songs. F-DUB has toured all over the world including the Philippines, Canada, California, Indiana, China, Japan, Norway and more. F-DUB is making tracks all around the world, like a locomotive, he is unstoppable. Stay tuned to see what F-DUB does next… GOLDEN!
F-DUB Press Kit: http://www.reverbnation.com/rpk/1125581
Album Title
Song Title
Artist
Release Date
DL/Buy
Contribution
Golden Brothers
Goonz Attack Intro
Golden Brothers ft. Dama Nilz
2014-01-18
DL
Writer, Performer
Golden Brothers
Golden Brothers
Golden Brothers
2014-01-18
DL
Writer, Performer
Golden Brothers
Trouble
Golden Brothers ft. Darya
2014-01-18
DL
Writer, Performer
Golden Brothers
Pull Out The Cups
Golden Brothers ft. Lil Jase
2014-01-18
DL
Writer, Performer
Golden Brothers
Menace
Golden Brothers ft. MavriC & Xienhow
2014-01-18
DL
Writer, Performer
Golden Brothers
Cloud 9
Golden Brothers
2014-01-18
DL
Writer, Performer
Golden Brothers
Made It Through
Golden Brothers ft. Fahim
2014-01-18
DL
Writer, Performer
Golden Brothers
Ride With You
Golden Brothers ft. M-Geez & Frankie Fingaz
2014-01-18
DL
Writer, Performer
Golden Brothers
Can't Fuck With GNG
Golden Brothers ft. M-Geez
2014-01-18
DL
Writer, Performer
Golden Brothers
InstaGram
Golden Brothers ft. M-Geez
2014-01-18
DL
Writer, Performer
Golden Brothers
ShOutro
Golden Brothers
2014-01-18
DL
Writer, Performer
I'm Back At It pt.II
Golden Goon Boyz
F-DUB ft. Xienhow, Mike Swift, M-Geez
2013-09-03
BUY
Writer, Performer
The Lovey Dubby Show
The Lovey Dubby Show Intro
F-DUB
2012-10-21
BUY
Writer, Performer
The Lovey Dubby Show
Yearning
F-DUB
2012-10-21
BUY
Writer, Performer
The Lovey Dubby Show
Between Me and You
F-DUB
2012-10-21
BUY
Writer, Performer
The Lovey Dubby Show
Gotta Lot of Love ft. Moey Toons
F-DUB
2012-10-21
BUY
Writer, Performer
The Lovey Dubby Show
Girl
F-DUB
2012-10-21
BUY
Writer, Performer
The Lovey Dubby Show
Baby
F-DUB
2012-10-21
BUY
Writer, Performer
The Lovey Dubby Show
My Kinda of Woman
F-DUB
2012-10-21
BUY
Writer, Performer
The Lovey Dubby Show
Lover in You
F-DUB
2012-10-21
BUY
Writer, Performer
The Lovey Dubby Show
You Make Me Feel
F-DUB
2012-10-21
BUY
Writer, Performer
The Lovey Dubby Show
Sweetest Hangover
F-DUB
2012-10-21
BUY
Writer, Performer
The Lovey Dubby Show
The Lovey Dubby Show Outro
F-DUB
2012-10-21
BUY
Writer, Performer
G.E.D. (Get Enlightened Daily)
Who is it?
Count Bluntas ft. F-DUB, Mike Swift, Ralphie GetsMoney
2012-06-12
BUY
Writer, Performer
G.E.D. (Get Enlightened Daily)
Da Greatest
F-DUB ft. MGeez & Ken Boogs
2012-06-12
BUY
Writer, Performer