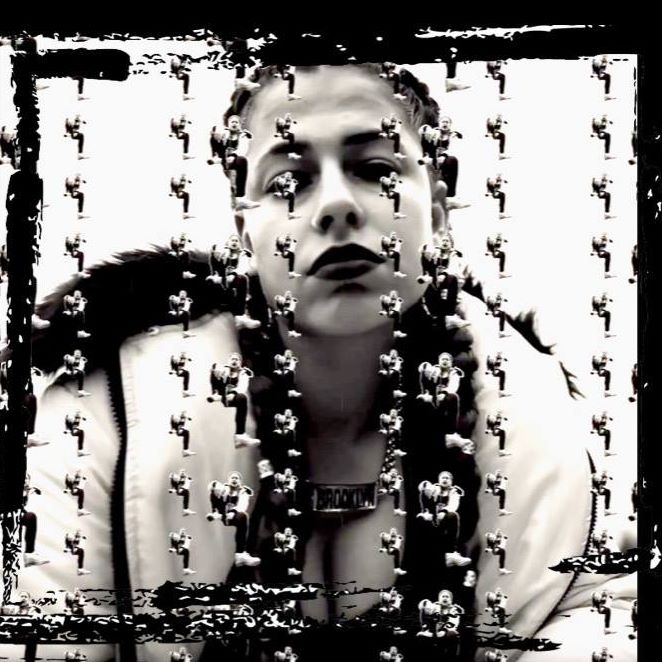 Dama Nilz, born Anelia Lomsky, is from Brighton Beach, Brooklyn, NY. She was raised by a Jazz musician and actress in a Russian household. After her fathers death in 2003, Dama, age 13, was on a path of self-destruction that led to her spending time in the juvenile corrections system, homelessness, selling drugs, and arrests. Throughout all the years of struggle, she maintained a dream of become a successful musician.
Dama began performing in the NYC underground hip hop circuit in 2007. Her cute but tomboyish appearance and hard core lyrical raps intrigued audiences and gained her a small, yet consistent following. She has appeared on Late Night with Jimmy Fallon (freestyle rap segment), toured a few dates with Ghostface Killah and Sheek Louch, and traveled all over the country and Europe performing.
Dama has come a long way musically from the place in hip hop where she started. She has performed with a band, plays guitar and keys, produced songs for herself and others, and directed all her own music videos. With the new production by 4Dolo, and recording engineer Count Bluntas, Dama has formed a new sound that is fun and experimental. The new EP "Black Couch" is releasing on Feb 18, 2014, followed by a tour in Norway, London, and Amsterdam Feb 20- Mar 20. A new album (yet to be titled) will be released in July of 2014.
| Album Title | Song Title | Artist | Release Date | DL/Buy | Contribution |
| --- | --- | --- | --- | --- | --- |
| Black Couch | Black Couch | Dama Nilz ft 4Dolo | 2014-02-18 | DL | Writer, Performer |
| Black Couch | Something | Dama Nilz | 2014-02-18 | DL | Writer, Performer |
| Black Couch | Casa Blanca | Dama Nilz | 2014-02-18 | DL | Writer, Performer |
| Black Couch | Work Number | Dama Nilz | 2014-02-18 | DL | Writer, Performer |
| Black Couch | Get Me There | Dama Nilz | 2014-02-18 | DL | Writer, Performer |
| Black Couch | Stock Exchange | Dama Nilz | 2014-02-18 | DL | Writer, Performer |
| Black Couch | Tussie Bwa | Dama Nilz ft F-DUB | 2014-02-18 | DL | Writer, Performer |
| Black Couch | Nice Girl (Platinum) | Dama Nilz | 2014-02-18 | DL | Writer, Performer |
| Down For The Count | La La | Dama Nilz, Bianco, Count Bluntas | 2013-10-31 | DL | Writer, Performer |